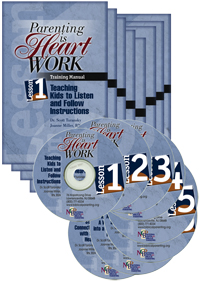 Parenting is Heart Work
Training Manuals and Audio CDs
Your family is just a few steps away from a miracle—and that miracle starts with you!
Listen to nationally known teachers Dr. Scott Turansky and Joanne Miller, RN, BSN as they unpack strategic routines of family life. Learn how to give day-to-day instructions in a way that builds cooperation and responsibility. Hear practical ideas for connecting with your kids emotionally so that their hearts will be soft and teachable. Each session comes with a 36-page workbook that walks you through the content step-by-step, showing you how to put the truths into practice with your children.
These training manuals and CDs are designed to help you integrate key success principles into your family. Answer the questions in the lesson, look up the scriptures, reflect on the teaching, and watch yourself make significant changes in the ways you relate. When parents change, children change. You'll love the difference.

Set of all 8 Training Manuals with CDs $99.95 ORDER NOW
Read summaries of each workbook.
What's the difference between the Parenting is Heart Work book, videos, CDs, and training manuals?