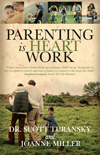 Parenting is Heart Work Book
This book is the where it all started. Based on a study of the word "heart" in the scriptures, Parenting is Heart Work applies these findings to the parent/child relationship. It's a practical book revealing nine functions of the heart and several strategies for helping children change on this deep level. Questions at the end of every chapter allow you to use the book for group discussion.
256 pp $14.99
Learn More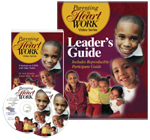 Heart Work Church Kit
Eight sessions on DVD explore practical heart-work strategies in family life. Each video contains a dramatic sketch between a teenage daughter and her dad. Dr. Turansky also tells a Bible story in each video making special application of the scriptures to parenting. Practical stories, step-by-step strategies, humor, and a lot of illustrations make each 35-minute segment powerful for parent training in a variety of settings.
Book, Two DVDs, and Leader's Guide $199.95
Learn More
Also check out the Heart Work Family Kit

Parenting is Heart Work Audio CDs
Eight live seminars on CD for easy listening when you're on the go. Learn practical tools for touching your child's heart and building character through the everyday instructions and corrections of life. You can listen to these CDs over and over again and allow your children to listen to them as well. You may purchase the CDs by themselves or with the workbooks that complement them.
8 CDs $49.95
Learn More

Parenting is Heart Work Training Manuals
The Parenting is Heart Work Training Manuals help you make significant and lasting changes in yourself and your children. Each workbook contains questions for self-reflection, scripture references to look up and consider, teaching, and plenty of examples to help you digest and implement the strategies. When parents ask us "Where do I start?" we direct them right here. The Training Manuals each come with a complementing CD. They may be purchased individually or in an eight-manual set.
Individual Training Manual with CD $14.95
Set of all 8 Training Manuals with CDs $99.95
Learn More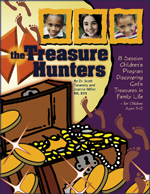 Treasure Hunters Children's Curriculum
The Treasure Hunters Children's Curriculum is an activity-based program for children. It was designed for use in churches and homes with many practical, hands-on ways to help children become more effective in eight key areas of family life. Your kids will love this program and so will you! Each lesson corresponds to one of the lesson is the eight Training Manuals and the eight video sessions for parent training. As parents change, children also change and family life becomes a treasure. Each lesson has enough content to fill 90 minutes of class time. Can also be broken into shorter sessions for Sunday School or family activity nights.
Treasure Hunter's Curriculum, 124 pp $24.95
Learn More