The Twitter Party
Wednesday May 1, 2013, 8:00 pm to 9:00 pm Eastern Time
Never been to a Twitter Party? That's okay. Here's all you need to get in on all of the fun. We'll have lots of good interaction about parenting and about the book. We'll also be giving away prizes throughout the Twitter Party. You'll want to participate and get all of your friends to join in as well.
You can watch the Twitter Party unfold here in our Twitte Party Chat Room. You don't have to sign in if you just want to watch, but if you do sign in, then you can tweet right from there. The only way to win those prizes is to have a Twitter account and to tweet your responses.
If you don't want to join the Twitter Party Chat Room above, then you can use the twitter hashtag is #heartparenting. We'll be giving away lots of prizes. Plan on joining us and spreading the word. The Twitter Party will be run by @biblicalparent. You'll want to begin to follow this handle so that you can receive further instructions.
The prizes will be:
4 Amazon Gift cards ($25.00 each)
2 Biblical Parenting Store Gift Cards ($25.00 each)
2 Copies of The Christian Parenting Handbook ($16.99)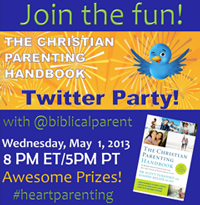 > Click here to download this banner to promote your Twitter Party.