Finding the Right Parenting Resource for You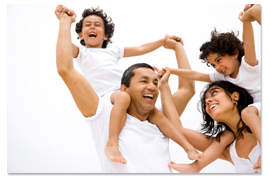 Although parenting has tremendous joys it's not without its challenges. If you've come to this page feeling overwhelmed and discouraged then please visit this page first.
Please know that there are solutions for the parenting challenges you face. All children are different. All parents are different. That's why we offer a variety of solutions for each problem. There are a lot of bad ways to parent but there are also a lot of good ways to parent. The challenge is to find the best way for you and your child. You're likely doing a lot of good things right now in your parenting. Even good things don't work all the time. That doesn't mean that they're bad. It just means you need to make a change. We call those changes parenting shifts. Children go through developmental stages. As they do, parents must make shifts as well.
We can help you find a solution that's best for your child. You'll likely need to make some changes in how you parent but we find that when parents change, children have to change. That change starts with you.
Please feel free to call us if you have a specific question. We have people available to help you by phone at (609) 771-8002 or email parent@biblicalparenting.org.

Browse our web store by clicking here.
Here are some other ways to find help:
> Articles
> Just for Fun
> Phone Coaching with Dr. Scott Turansky or an Associate
> Parent Training Resources for Small Groups