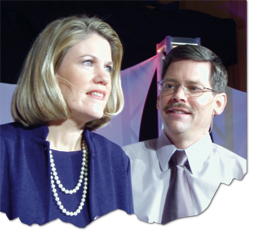 Live Seminar Featuring Dr. Scott Turansky and Joanne Miller, RN, BSN
To download a pdf flier with details, click here.
To hear what others are saying, click here.
Join hundreds of churches who have hosted Dr. Turansky and Mrs. Miller in their Parenting is Heart Work parenting seminar. Turansky and Miller have written ten books, created three video series, and are on the cutting edge of parenting today. Their biblical, practical approach energizes parents with tools they can use when they walk out the door.
Seminars are excellent for parents of children 2-18 and all seminars offer a complementary children's program so that your church can teach the parents while our presenters teach the adults.
If you are interested in hosting a seminar featuring Dr. Scott Turansky and Joanne Miller, RN, BSN, please call our office at (609) 771-8002.
If you're interested in having a different presenter come to your church, click here.
Dr. Scott Turansky and Joanne Miller, RN, BSN teach several seminars. Some can be done on a week night for two and a half hours and others are best handled on a Saturday morning or Sunday afternoon.
Everyday Parents CAN Raise Extraordinary Kids. The biblical understanding of the conscience provides parents with some great strategies to help their children take initiative instead of relying parental prompters to get things done.
Learn more here.
Relationship Tools for Family Success. The biblical concept of honor tranforms families. Kids learn to add energy to family life instead of draining it. The focus on the relational side of family life addresses many common areas and special emphasis is placed on teaching children to accept no as an answer.
Learn more here.
Dealing with Anger and Bad Attitudes in Children. When parents look at the heart of a child then significant change can take place. This seminar trains parents how to use a heart-based approach in two common areas of family life, by examining the emotional component of family interaction. It's practical, biblical, and prepares children for the future.
Learn more here.
Dr. Scott Turansky and Joanne Miller also speak at family camps, homeschool groups, and conferences. If you have an idea you might want to check in with us and see how we might accent your ministry to parents.
Using Parenting Classes as an Outreach
More and more churches are discovering the benefit of using parenting seminars to reach out to their community. Parenting is a need people are willing to admit. Calvary Chapel of Mercer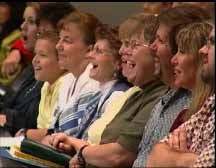 County hosted a three-week parenting class and advertised it to the community. The response was 138 families from outside the church in addition to the 30 Calvary Chapel families. Over 300 adults and children attended the seminar. It was an excellent opportunity to introduce families to the church and its other programs, and even to the Lord. Cumberland Valley Church in Dillsburg, PA offered a one evening parenting class every year for three years. At their most recent event, they had over 160 adults and children attend, most of whom were not from their church.
Many churches look for ideas that will attract people to the Lord. Many of those ideas get some results. Parenting classes, though, create a unique opportunity to touch the lives of people. Ministering to families through a felt need often opens the doors for conversations about spirituality and about the message of salvation. The church develops a reputation that says, "We care about families," and people are eager to learn more.
Offer a Children's Program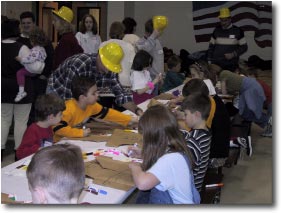 We provide you with curriculum for a children's program that uses activities, Bible stories, and crafts to communicate truths to children that complement what the adults are learning. The children's program is a significant demonstration that you as a church are interested in families. Furthermore, as volunteers from your church work together, they experience the blessing of fellowship and of knowing that they are serving the Lord together.
Whether you have Dr. Scott Turansky and Joanne Miller live or through video, your church will benefit from the humor, stories, and practical help. Parents from single parent families, blended families, and traditional families all learn valuable tools that they can apply with their kids.