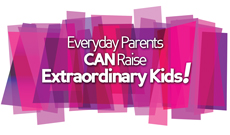 Dr. Scott Turansky and Joanne Miller, RN, BSN
teach this powerful seminar you won't want to miss. You'll receive practical, biblical advice for your parenting in a fun and uplifting environment. Although all children are different, a few new ideas will help you tailor solutions to meet the needs of your family. You'll leave with ideas you can put into practice right away.

| | |
| --- | --- |
| | Using stories, humor and plenty of illustrations, Dr. Turansky and Mrs. Miller will help you touch the hearts of your kids. Strategies directed to the heart help children make lasting changes, but often require that parents think differently about the way they work with their kids. When parents change the way they parent, kids change the way they live. Having the right tools makes all the difference. |
Teach your children how to be internally motivated using the God-given conscience resident in their hearts. The conscience prompts children to do what's right, deal with wrongs, be honest, and care about others. This seminar will teach you practical tools for changing everyday problems into learning experiences to help children develop the skills they'll need for the rest of their lives.
This parenting seminar offers you hope and encouragement by helping you...
• Identify the four parts of the conscience.
• Learn how to adjust the words you say to strengthen the conscience of a child.
• Take home a script that helps your child process correction wisely and powerfully.
• Know how to approach difficult problems like defiance, lying, rebellion, and meanness.
• Teach your children to take initiative to show kindness, help out, and add energy to your family instead of draining it.
• Help your children listen to the voice of God in their own hearts.
• Work with kids ages 2-18 in ways that will prepare them for a strong future.
• Raise children who are internally-motivated and want to do what's right.
Question and answer times provide parents with opportunities to present real problems they're facing and hear suggestions.