Watch this video: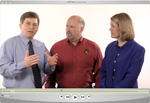 Motivating and Practical
You'll leave with lots of ideas and strategies for strengthening your family
This is a unique conference blending encouragement and motivation with actual hands on tools to address family issues. The speakers, workshop leaders, and exhibit booths provide you with a multi-faceted learning environment.
Of course, the emphasis of the conference is on the hearts of your children. Many parents simply use behavior modification to get their kids to do what they want. The results are often frustrating for parents who'd like to see lasting change.
In this conference you will learn strategies that work. Although all children are unique and parents have different styles, there are some tools that can make all the difference between a family that's growing and a family that's struggling. We are committed to bringing you those tools.
So, enjoy the website. Click on the links to the left. And if you end up with any unanswered questions, please take time to email us.